Supported & Sustainable: Where Staffing meets Safety
Supported workers are the foundation of resident and client safety, as well as organisational sustainability in healthcare. We understand that this matters to Aged & Disability Care organisations, across Asia-Pacific.
The WHO recognises that "health systems can only function with health workers; improving health service coverage and realising the right to the enjoyment of the highest attainable standard of health is dependent on their availability, accessibility, acceptability and quality."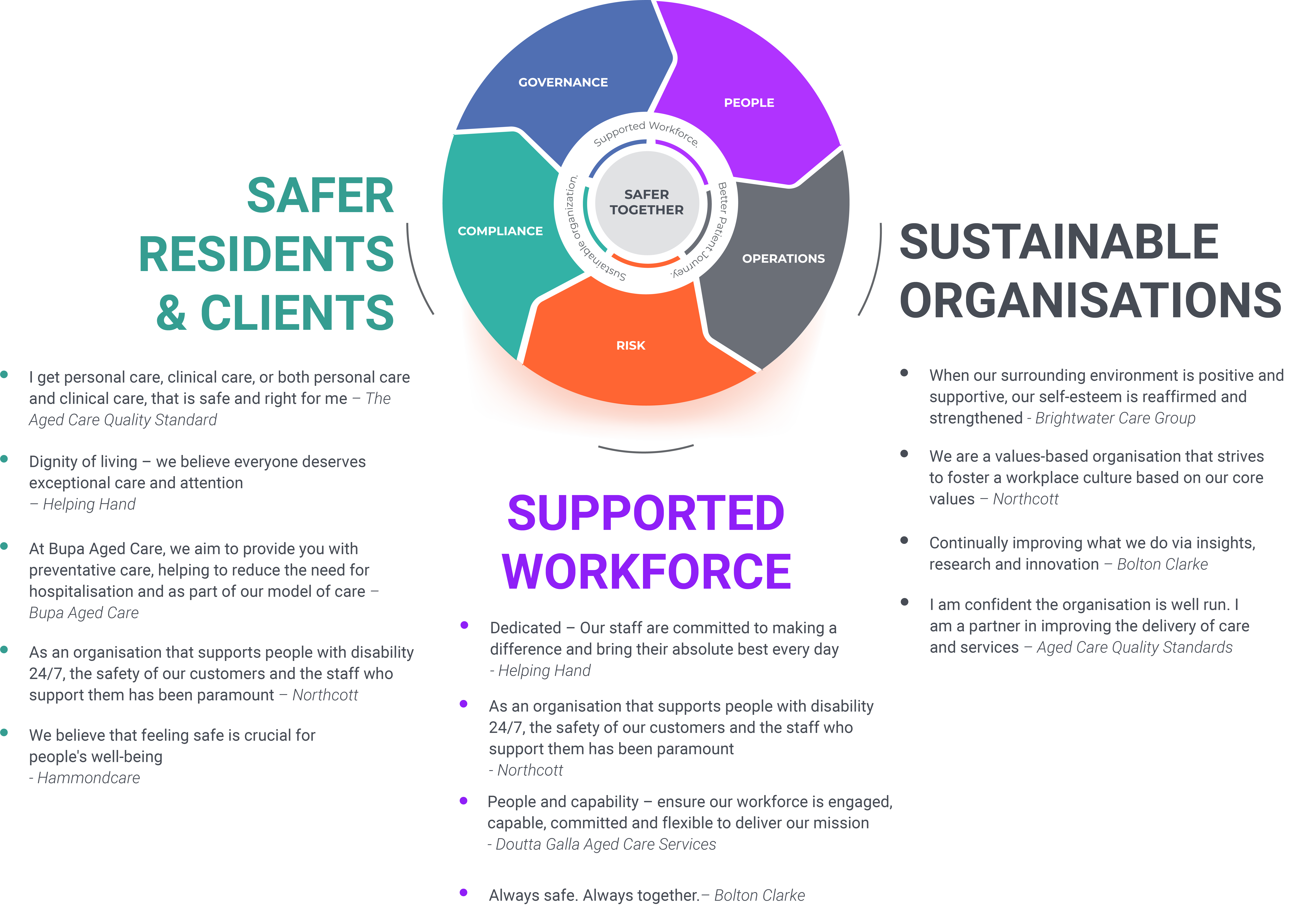 A Supported Workforce Supports a Safer Resident & Client Journey
Are you providing the right tools to your workforce to ensure a safer Resident & Client journey?
"I feel safe and am encouraged and supported to give feedback and make complaints. I am engaged in processes to address my feedback and complaints, and appropriate action is taken." - Aged Care Quality Standards.
Provide residents, clients and staff easy access to provide feedback to support a culture of learning and open communication
Provide an organisational view of your workforce to highlight staff shortages or overages based on current resident and client demand, bringing workforce and resident need together.
Ensure all staff have access to the right policies and procedures, at the right time to mitigate the risk of adverse events.
St Vincent's Health Australia & RLDatix embarked on a project to support to consolidate and standardise their incident & risk management solution. The project has brought together St Vincent's 23,000 staff members, supporting organisational sustainability, and giving a voice to staff to increase safety across the patient journey.
A Safer Workforce and Safer Patients builds a Sustainable Organisation
The great resignation, or the great exhaustion?
"Massive staffing shortages have led to the closure of 1000 aged care beds by providers that can't ensure patients will be safe." – Carolyn Cooper, Aged Care Commissioner, New Zealand
Reduce the reoccurrence of incidents by providing your healthcare workers with integrated and accessible solutions to report incidents and risks easily across your organisation.
Ensure your healthcare workers have access to your organisations proactive policies that support their wellbeing and the reduction of incidents, caused by burnout.
Support equitable rostering with consistent award interpretations, visibility of rostering, increased payroll accuracy, and accessible leave requests through mobile and desktop solutions.
"The demand template in Optima allow us to set the number of beds, which makes it easy for us to report on data of direct care hours per residents. We can also separate clinical and non-clinical staff hours to meet the reporting requirement of the new Quality Standard." - Fiona Millar, General Manager of People and Culture, SwanCare
A Safer, Sustainable Organisation
Building a strong foundation for your workforce and patients.
"It is abundantly clear that the healthcare ecosystem cannot ask clinicians and staff to work harder, but must instead provide them with more tools and an environment built on a strong foundation of wellness and on instilling and rewarding a culture of safety." - The New England Journal of Medicine
Optimise your workforce based on their availability, giving you greater control of your workforce budget by matching resident and client demand with the right workforce which in turn supports quality care
Access comprehensive incident and risk data to support the decision processes required to evaluate and review policies and procedures that need to updated or implemented, through integrated risk & compliance solutions.
Our local and global experience in partnering with healthcare organisations provides user-friendly systems to support acceptability with new technologies across your organisation.
"A critical success factor has been that partnership approach; where we've partnered with a highly confident tech vendor like RLDatix, who brought their technology expertise into the mix." - Dr Zoran Bolevich, Chief Executive of eHealth NSW and Chief Information Officer of NSW Health
St John of God Health Care transitioned from 8,000 documents, to approximately 1,500 across the group with a new centrally managed policy library, reducing the administration work and risk that comes with duplicated or variable policies.
Who is RLDatix?
We believe together, we can achieve safer healthcare
We are on mission to help you increase your quality of care and reduce costs. We're building on more than 30 years of experience of inspiring trust with over 6000 hospitals and healthcare organisations around the world.
We break down barriers and help you improve and integrate your governance, risk and compliance functions to keep your organisation safer.
We believe in a world where patients have access to quality care, where workforces are supported by transparency and empathy and where organisations are committed to an overall culture of safety.
What does this mean for healthcare in Australia?
Supporting Australian Healthcare Services for 35 years.
RLDatix has a long and successful history of working with and supporting organisations of all sizes in Australia and New Zealand.
We provide software and services to every state government health network in Australia, including NSW Health, SA Health and Northern Territory, as well as many private healthcare providers, such as Healthscope, St John of God Health Care and 19 out of the 20 DHBs in New Zealand.
With the depth of our experience, we know how to support your organisation towards a safer future, together.