This Annex forms part of the Agreement if the Customer uses or will use PolicyStat, as specified in the Quote.
1 INTERPRETATION AND DEFINITIONS

1.1 In this Annex "Conversion Service" means PolicyStat's services that import and convert Customer Data for use within the Service.
1.2 References in this Annex to Clauses are to Clauses of this Annex unless otherwise specified.
1.3 Privacy Policy is located at https://www.icontracts.com/privacy-policy/
2 CUSTOMER'S RESPONSIBILITIES

2.1 PolicyStat provides Conversion Services to Customer, and Customer shall be solely responsible for reviewing any converted file to determine that such file is accurate and complete. Customer is responsible for notifying PolicyStat of any errors contained in any such converted file prior to its acceptance of such converted file. Customer acknowledges and agrees that by accepting any such converted file that it is agreeing that such review has occurred and that the Conversion Services have been satisfactorily completed for such converted file.
3 FEES AND PAYMENT

3.1 PolicyStat reserves the right to impose a reconnection fee of no more than the equivalent of one month's Service Fee in the event of Service suspension and subsequent reconnection

4 DISCLAIMER OF WARRANTIES

4.1 Please confirm if this is required other provisions are included in MSA

POLICYSTAT AND ITS LICENSORS DO NOT REPRESENT, COVENANT OR WARRANT THAT: ANY STORED CUSTOMER DATA WILL BE ACCURATE OR RELIABLE; (C) ANY CONVERTED FILE OBTAINED THROUGH THE CONVERSION SERVICES WILL BE ERROR-FREE; CUSTOMER ACKNOWLEDGES AND AGREES THAT IT IS SOLELY RESPONSIBLE FOR THE QUALITY, TRUTH, ACCURACY AND COMPLETENESS OF THE CUSTOMER DATA PROVIDED OR SUBMITTED TO THE SERVICE BY THE CUSTOMER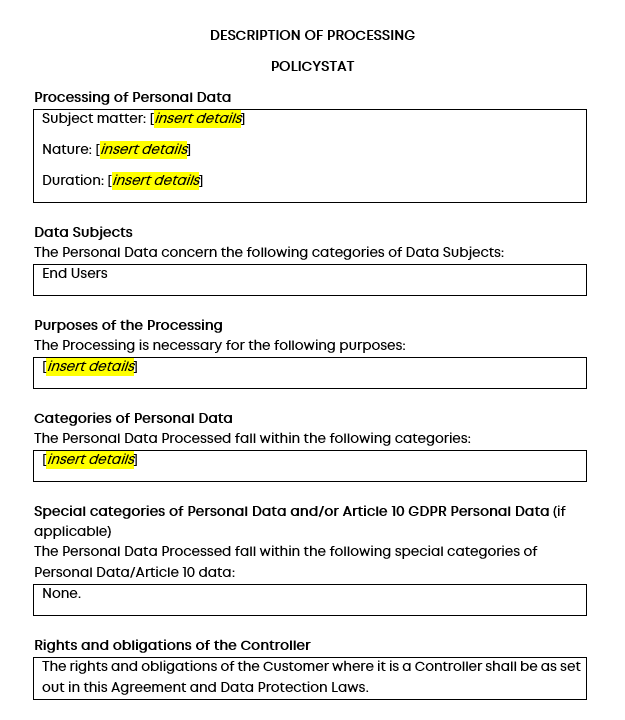 To view the Master Services Agreement click here.